Transgender voters face dreaded path to the ballot box
---
SPECIAL REPORT | A group of Malaysians are hesitant about going to the polls this year - because it is too dangerous for them.
"To be honest, even I myself previously didn't want to vote," said Nisha Ayub, a prominent transgender rights activist, when asked about her voting experience in the general elections.
"That is not because I don't know my rights, it's that I just don't want to go through the process. You have to queue and to give your IC (identity card). All things about the IC are a problem to us," she explained.
For most voters, it is standard procedure to show their identity cards (ICs) at the polling station. However, it is a huge barrier for the transgender community.
"Being transgender, your IC doesn't reflect who you are," said Nisha, adding that this made transgender persons reluctant to exercise their voting rights.
"They feel that it is not an environment that is safe for them to go out to vote. "
A terrifying process
Dorian, a 30-year-old transgender man (or "transman") living in Selangor, cast his first vote in a Malaysian general election three years after transitioning genders in 2010.
Recalling the experience of voting in the 13th general election, Dorian (photo) repeatedly described how he was "terrified" throughout the voting process.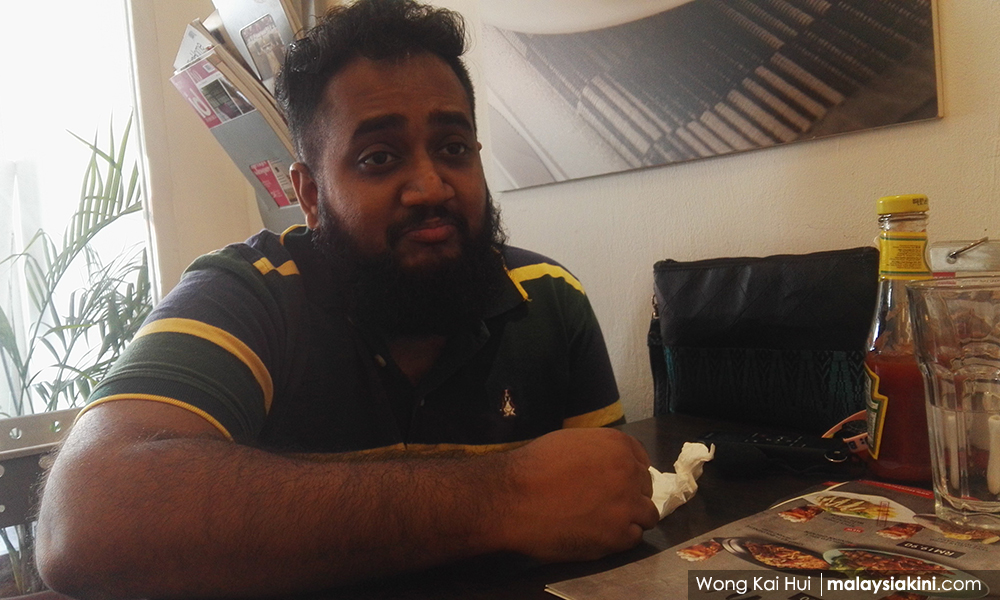 "I was there earlier so I had to wait for them to open the gate. I was there waiting and I remember I was terrified of showing my IC or having my identity questioned, because all these things have happened to me before."
Dorian said that he was a passionate first-time voter and he was still determined to vote despite being full of fear. He felt lucky the moment he had successfully cast his vote.
He added that he was "glad" that he had not been questioned by the authorities after showing them his IC.
"Sometimes they do see my IC but don't realise the even number or the word 'perempuan'( female) on it. In that case (during the 13th general election), I was lucky."
In Malaysia, if the last digit of an IC number is even, it means that the citizen is female; if it is an odd number, it means that the citizen is male.
Dorian left home at the age of 18, as he was not accepted by his family as a transman. After spending years in Singapore, he is now working for Kuala Lumpur-based NGO Justice For Sisters, which focuses on legal and policy issues for transgender people.
Despite successfully voting in the last general election and working in a job that advocates transgender rights and empowerment, Dorian continues to have concerns about voting in the election.
Asked if he was still afraid to vote, Dorian answered, "Yes, of course."
"No matter how empowered I am, the fear always appears because it is a trauma from all the times I have been discriminated against."
Ready to face harassment
Faris Saad, a 34-year-old transman who sports a short haircut and a moustache, started his gender transition journey in 2014, a year after the 13th general election. Thus, the coming election will be his first vote after his transition.
Faris (photo) is the vocalist and guitarist of queer punk band "Shh...Diam!". He also works as a journalist.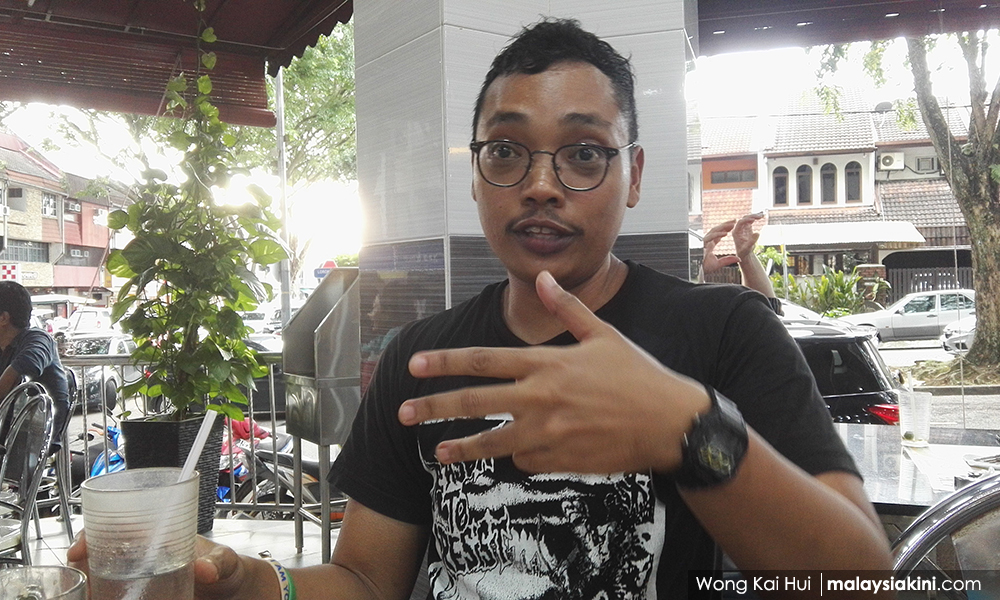 During the conversation, Faris took out his IC from his wallet and imitated the expression of the girl in the photo in a funny way. Without seeing his identity card, one would not know that this punk musician had been "assigned" as female when he was born.
He admitted that although he has voted in two previous general elections, he is prepared to "probably face harassment" in the coming election.
In his opinion, transmen are less visible and therefore have fewer problems in their daily lives.
On the other hand, transgender women (or "transwomen") face more discrimination and harassment as they are more visible and are challenging patriarchal attitudes.
"They (transwomen) don't even go and register (as voters) because of the fear."
Faris said that a police officer, upon discovering his identity, had once asked him curiously how he had trained his body to become more masculine. He pointed out that if he had been a transwoman, it may have been a different story.
Running the risk of arrest
Activist Nisha (photo) stressed that the experience for transgender people in each polling station could be different.
For example, she noted that in states that are Islamic strongholds such as Kelantan and Terengganu, transgender people are under greater social pressure and even run the risk of being arrested when they vote.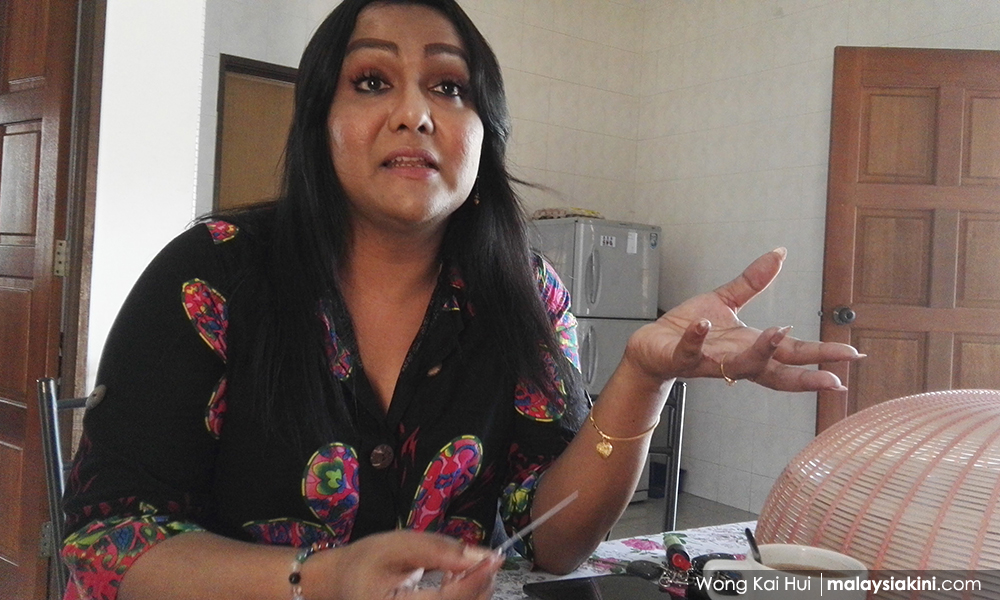 "I am from Malacca. There are a lot of transwomen in Malacca who live in small towns. As people there already know them, they don't have issues going out to vote."
"Only certain areas that are too rigid, for example, Kelantan or Terengganu… people there emphasise on your dressing, then everything becomes an issue for them."
Under syariah law in Malaysia, all 13 states and the federal territories prohibit "a man posing as a woman", while three states prohibit "a woman posing as a man". Therefore, exposing one's identity as a Muslim transgender person is a big risk.
"They get worried. If I go voting, what should wear? Should I dress like a man? Or should I dress like a woman?"
"If I dress like a woman, will I get arrested? The system now is that if people call, the officers will come and catch you, especially the religious department."
According to a 2014 Human Rights Watch report, dozens of transwomen have been arrested in Malaysia and served their sentences in male prisons.
Furthermore, some transwomen have had their heads forcibly shaved and were sexually harassed by Religious Department officials, police officers, wardens and male prisoners.
Forced to hide
Activist Nisha said that since the social system in Malaysia is not inclusive, transgender people tend to hide or remain in their own community to ensure their personal safety. As a result, they seldom participate in public activities.
"A lot of transwomen wouldn't want to go to the general hospital because the system and the environment are not inclusive.
"You go in and you have to give your IC. The first thing that people will say is, 'Oh! You have a male name but you dress as a girl!' - and the discrimination begins," she said.
Nisha revealed that some transgender people don't even want to lodge police reports when they have been assaulted or beaten up because they fear that showing their ICs would embarrass them.
Until today, there is no legal procedure in Malaysia for transgender people to change their names and gender markers on their identity cards.
Police responsible for safety
According to a recent survey conducted by NGO Diversity Malaysia, 40 percent of transwomen respondents have not registered as voters, which is the highest among gender identities.
Tanjung Bungah assemblyperson Teh Yee Cheu (photo), who chairs an independent transgender committee in Penang, said that the reluctance of transgender people to vote in elections could be attributed to the discrimination and unfair treatment they often face in public spaces.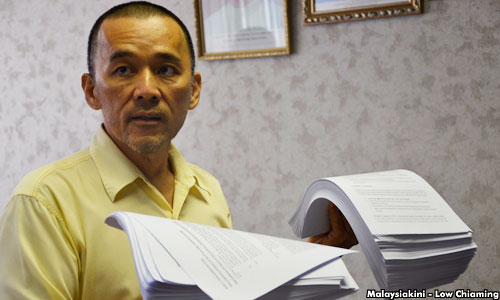 "Because of the social discrimination and legal constraints, as well as the intervention of the police and religious departments, they prefer to stay in their own community and have less participation in public activities."
Acknowledging the obstacles faced by transgender people, he expressed hope that sexual minorities would nonetheless summon up the courage to vote during the coming general election.
Teh noted that police officers at the polling stations were responsible for the safety of voters, and that the polling and counting agents in the room could raise objections if any harassment happened.
Nisha said frankly that she, like many other transgender people, was previously reluctant to vote because "she could not see hope".
However, in recent years she has found that Malaysians have begun to discuss issues related to gender and indigenous peoples, which has made her feel that society is improving.
Nisha encouraged members of the transgender community to cast their votes in the 14th general election and suggested that they invite relatives and friends to accompany them on election day, in order to alleviate fears and mitigate risks.
"It is about self-acceptance. There is no male or female label on the ballot boxes. Everybody votes in the same box.
"If you want changes, the only way is through the voting system and we actually have the power to make the changes," she said.